Auditorium Parco della Musica:
Renzo Piano was inspired by beetles to give shape to the auditorium.
I chose to conceptualize his creative thinking,
giving birth to this photographic expression.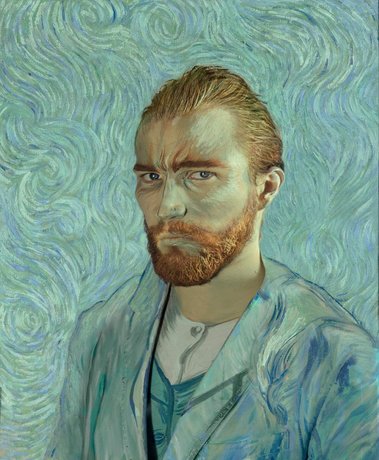 Vincent Van Gogh:
BETWEEN PAINTING AND PHOTOGRAPHY

On july 29, 1890, one of the greatest painters of the modern age died: Vincent van Gogh, a misunderstood genius who deeply influenced the art of the 20th century.

We wish to remember him through a project, linking and harmonizes two different art forms: painting and photography.

During his artistic career, Van Gogh painted numerous/many self-portraits.
"Self-portrait", on blue background, is considered to be one of his most beautiful.
Completed in September 1889 when the artist was at the Saint Remy Sanatorium, recovering from a long period of depression during which time he tried to commit suicide by swallowing paint.

What one notices immediately is his insane gaze, and the whirling of Van Gogh's typical brush strokes, intensifying the feeling of disorientation caused by his interior crisis.
The main purpose of this project was to bring this artist to life, to do so, we worked through body art, painting, post-production and photography to piece it all together.
How do we manage all this?
The model we chose acts like a springboard to set up the production, the colors, poses and light make the shot nearly identical to the painting. The slight differences are fixed by the final post-production.
The end result is a photo-painting or vice-versa, a harmonious and original mix.
One night with Maruska Starr:
''Dario's story''
A glimpse inside an unknown world, victim of prejudice: the one of men's night-life, breaking with habit, dressing up like women.
I lived a typical day in Dario's life, a dynamic, confident young man with his own habits, interests and ambitions
A guy who by the day's end gives body and voice to the wonderful Maruska Starr.
Dario tells us that to him, Maruska embodies his main interests and hobbies such as singing, dancing, hair and makeup.
He initiated at 17, certain that such a character would get no attention.
Between all drag queens, Maruska is one of the best known and what started as a hobby, slowly became a proper job.
In an m.d.q.i. event, organized in a Roman club, I could see up close the preparation for a show, like the one performed by Maruska.
Everything starts with choosing make up and an outfit.
To me it was an unforgettable experience to live at least once in one's life.
Singing, dancing and joy are the markers of these nights, unique of its kind.
In the blink of an eye the show is over and the sun shines on us as we exit the club. Everything returns to reality and to daily life, looking forward, maybe, to live another special night.

"Will we be happy or will we be sad, who cares? We will be side by side. And this must be, this is the essential."


-Taken with assembled-
To get lost
"My heart is the most tormented country. "
-Taken with 35 mm Canon EA 1-